Welcome to the Wellness page of our new website. Our initial idea for this section is to provide some in-depth information about food and nutrition while including some delicious recipes (the recipe page is still under construction). We readily welcome comments and suggestions! For the second episode, we will be focusing on the Winter Squash family. **If you missed our first edition, every article will be archived under the News page of the website**
Winter Squash
The other night my friend drove over to my home on her way home from picking up her CSA. She had three different squashes in her basket and had no idea what to do with them. And it wasn't like she she came over for inspiration or ideas, she had no interest in using these huge vegetables for food and was looking for a new home for them. She did choose the right person, as I am always up for the challenge of an under-used local vegetable, but I can understand her hesitation.
On the bright side, the great thing about winter squash is they are easy to store and can string along your local food diet when the availability of other vegetables begins to thin. They offer all of the same anti-oxidant and nutritional benefits of our other orange/yellow foods including beta-carotenes. These carotenes help prevent many cancers, especially lung cancer, and eye diseases. The seeds of squash, especially pumpkin seeds, are very helpful in reducing the symptoms of benign prostatic hyperplasia.
So, lets take on the challenge….below I have listed some of the common squash you will find at our local farms.
Types of Winter Squash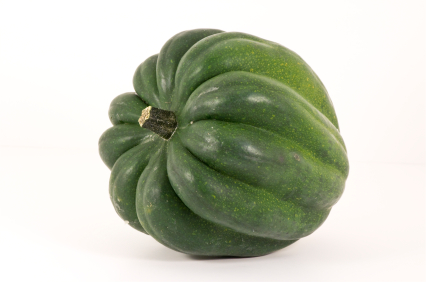 Acorn-These are one of the most popular and familiar squash. There flesh is moderately sweet, tender and slightly fibrous. They are a great size for smaller families and couples. While the skin is too difficult to remove prior to cooking, try roasting whole or in halves (I like to flatten the tapered ends as well so it sits flat on the plate). Traditionally, the butter and brown sugar treatment may satisfy the kids, but they are also delicious stuffed with grains and veggies or with some delicious local sausage!
Buttercup-These dark-green squash are part of the Turban family (named for their shape). They are very sweet and can be used as an alternative to sweet potatoes in recipes.
Butternut– The other most popular, these are the sweetest of all winter squash. The skin is reasonable to cut or peel off. I like to peel it, toss it in olive oil and salt and roast it till it is slightly caramelized. It is easy to roast whole as well and purees very smoothly, making it great for soups.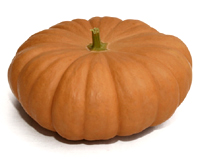 Cheese– Also known as Cinderella or Fairytale, these are pretty, often large, squash that have a nice sweet flavor and a firm flesh. You can find them in many colors: blue, green, ranges of orange or yellow. They are also a beautiful additions to your table's centerpiece, especially if you use them to serve your squash soup!
Delicata– The flavor of these small, oblong and beautifully striped squash is sweet but nutty and said to have a corn-like flavor. It is very delicious roasted, or stuffed and baked. You can eat the skin, which is not very common with the winter group. As their name describes, these are not good for long term storage and should be eaten within a few weeks.
Hubbard– These blue/gray squash with tapered ends are very large and store well. They can be kept for up to 5 months if properly stored. They are extra-thick skinned so roast them whole and use them as you would a pumpkin. They tend to be very moist and may require a longer than usual cooking time (90-120 minutes depending on the size).
Kabocha– Kabocha is the Japanese word for squash but is known here as a smaller, green, flattened squash. They have become more popular over the past few years and are definitely one of my favorites. They are small, making them reasonable to peel and the flesh is very sweet. The Japanese eat the skin, which I have done, and would be reasonable if the skin is fairly thin. I love to roast them with other root vegetables.
Spaghetti– While these are readily available, my experience is that most people shy away. I am not going to try to convince you that you can trick your kids into believing this is really pasta, but it can be a very tasty addition to your meals. There is quite the discussion about the best way to cook them to optimize long, noodle-like strands. Your options are steaming, roasting (whole or in-half) or boiling. My preference is to cut in half, scoop the seeds, place cut side down on a baking sheet and add 1 cup of water. Bake for 45-60 minutes at 350 and then allow to cool a little. The cooling allows the flesh to firm up a little and resulting in a longer "noodle". Then, I like to saute the "noodles" in a little butter or olive oil to give some crisp-ness and add your choice of toppings.
Sugar Pie/Pie Pumpkins– Take note, these are not field pumpkins, they are specific varieties that are grown for culinary use. I like to use other squash for soups and savory meals, keeping these guys for pie. I am not talking about just any pie! Fresh pumpkin puree will result in the best pie you have ever eaten. Add some fresh grated ginger and you are on you way to impressing the new in-laws, guaranteed! Roast them whole, with a few knife pokes for steam, at 350 for 60-90 minutes. Allow to cool, peel and remove seeds (keep them for roasting) and puree flesh until smooth. You'll never go back to canned pumpkin again!
Field Pumpkins/White Pumpkins/Gourds– these are not optimal for the culinary world. The flesh is too stringy and dry with minimal sweetness. They lend themselves best to decorative use and, of course, for carving.
Pumpkin/Squash Seeds– Here is a simple way to get the health benefits of these little seeds. Scoop them out, rinse and remove the flesh. Allow them to dry (this is critical, I throw them in my dehydrator for a few hours). Store them in the fridge until ready to eat. Once ready, heat up a pan with a pinch of butter (optional), salt and toast them until they just begin to pop.
Storage Notes
Delicata and Spaghetti should be eaten within a few weeks. Other, harder skinned squash can be stored for 1-5 months. Optimal temperature range is 40-45 degrees (garage/basement). The less imperfections on the squash, the longer it will keep. Since the stems can be a source of rot, cut them down as close to the skin as possible. Since squash grow on the ground, it is a good idea to scrub them with a vegetable brush and water before storing or cooking. Leftovers? The best way to freeze squash is to cook and puree it first.
Wellness page information provided by:
Heather Mitchell, BS, Certified Natural Chef
Change – Personal Chef Services and Consultation
Please contact me with any questions about this article, classes or cooking for your family or guests!